A new-build programme would create an intolerable burden on communities into the far future, writes Andrew Blowers; while Rose Heaney wonders why our abundant renewable energy sources are being overlooked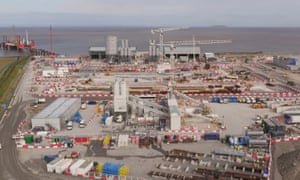 Work in progress at the Hinkley Point nuclear power plant in Somerset. 'An unmanageable and intolerable burden on communities into the far future,' writes Andrew Blowers. Photograph: EDF Energy/PA
In 1976, Lord Flowers pronounced that there should be no further commitment to nuclear energy unless it could be demonstrated that long-lived highly radioactive wastes could be safely contained for the indefinite future. Ever since, efforts to find a suitable site for a geological disposal facility have been rejected by communities (Wanted: community willing to host a highly radioactive waste dump in their district, 22 January).
There is, therefore, little evidence to support the government's claim that "it is satisfied that effective arrangements will exist to manage and dispose of the waste that will be produced from new nuclear power stations". Deep disposal may be the eventual long-term solution but demonstrating a safety case, finding suitable geology and a willing community are tough challenges and likely to take a long time. The search for a disposal site diverts attention from the real solution for the foreseeable future, which is to ensure the safe and secure management of the unavoidable legacy wastes that have to be managed. It is perverse to compound the problem by a new-build programme that will result in vastly increased radioactivity from spent fuel and other highly radioactive wastes which will have to be stored indefinitely at vulnerable sites scattered around our coasts.
A new-build programme would create an unmanageable and intolerable burden on communities into the far future. To suggest that a repository is the solution is in the realm of fantasy.
Prof Andrew Blowers
Member of the first Committee on Radioactive Waste Management
• The fact that the UK government is still going ahead with plans to construct new power stations, generating even more toxic radioactive waste, troubles and puzzles me immensely. Here, on the beautiful isle of Anglesey, where tidal, solar and wind energy production are all highly feasible alternatives and could also provide opportunities for well-paid employment, politicians appear to be happy for an area of outstanding natural beauty to be contaminated for further than the foreseeable future, not to mention the immense eyesore that will occupy acres of fertile land. It is an eye-wateringly costly venture that many fear will expose taxpayers to huge financial risk and will also leave future generations guarding the threat to their environment and health long after it ceases to function.
Future generations will doubtless wonder, when most of Europe is shutting down its nuclear power stations and not planning any more, why in the world the local population didn't protest harder.
Rose Heaney
Holyhead, Gwynedd
• Join the debate – email guardian.letters@theguardian.com
• Read more Guardian letters – click here to visit gu.com/letters