EXCLUSIVE: Following the launch of Carlsberg's paper bottle prototypes, edie explores how Coca-Cola, The Absolut Company and L'Oréal are joining the brewer to scale-up paper-based solutions that replace or rival single-use plastic bottles.
The humble plastic bottle has been the symbol of the sustainability movement in recent years. It is emblematic proof that global approaches to consumption and disposal are broken. A million plastic bottles are bought every minute globally, and this is expected to increase by 20% by 2021.
Most plastic bottles are used for soft drinks and water, and increasingly for alcohol. And, because 480 billion plastic drinking bottles were sold in 2016, the consumers who interact with them are well aware of the adverse impacts that occur when bottles seep into the natural environment.
As such plastic bottles are, or at least should be, one the way out, with retailers and manufacturers targeting them alongside straws, stirrers and other single-use items as quickfire ways to reduce their environmental footprint.
If, in the future, we are a functioning society without single-use plastic bottles, then it may well be that a cold October morning in the heart of Copenhagen is the day flagged by historians as the beginning of the end for plastic bottles.
Introducing Paboco
"We are collaborating across the value chain, sharing the risks and are united in our vision that the Paper Bottle will become a reality and fundamentally change this industry for good," says Gittan Schiold, interim chief executive of Paboco, a company that didn't exist a few months ago.
When Blue Planet 2 was airing the devastating impacts that plastics have on the marine environment back in December 2017, Paboco was still a vision, a joint venture being developed by paper packaging material developer BillerudKorsnäs and bottle manufacturing specialist Alpla. When it actually started its paper bottle vision, it was called EcoXpac.
Schiold is speaking at the Carlsberg Academy building in Copenhagen, built by the brewer's founder J.C. Jacobsen in 1846. It is a building steeped in history and rich with Carlsberg's approach to being a business innovator.  She is clutching numerous bottles made from sustainably sourced wood fibres, and one of them has been seen around the world after Carlsberg announced it had launched it as a beer bottle prototype.
The two prototypes consist of sustainably sourced wood fibre with an inner barrier that enables bottles to contain beer. One version prototype uses a thin recycled PET polymer film barrier, and the other a 100% bio-based PEF polymer film barrier.
Carlsberg has been working with Paboco, then EcoXpac since 2015, when it publicly announced its vision to create a Green Fibre Bottle that was fully recyclable and sustainably sourced.
Four years later it seems that the vision is a step closer to reality. Carlsberg has created around 60 of the prototype bottles to be showcased, a mere drop in the ocean of the billions of bottles produced every year, of which just 7% of those collected were turned into new bottles.
However, joining Paboco at the Carlsberg Academy are senior representatives from some of the world's biggest brands: Absolut, L'Oreal and Coca-Cola.
The three companies have joined Carlsberg and Paboco in creating the Paper Bottle Community, an innovation coalition united by the vision to create the world's first 100% bio-based and recyclable paper bottle.
Coca-Cola produces three million tonnes of plastic packaging a year – equivalent to 200,000 bottles a minute, L'Oreal used 104,000 tonnes of plastic packaging for its bottles and products in 2018 – 60% of the company's entire packaging volume and Absolut's parent company Pernod Ricard has set a target to incorporate 25% recycled PET plastic in packaging by 2025, despite glass accounting for 85% of total packaging volume.
These are global brands that sell and operate across an array of countries. If just 7% of plastic bottles are actually collected for recycling worldwide, you can see the game-changing appeal of a fully recyclable, biodegradable product.
Carlsberg's sustainability director Simon Boas Hoffmeyer explains that the vision isn't for this product to replace the brewer's existing packaging, not yet at least, but rather to compete with it.
"We didn't launch this to replace something else," he tells edie. "This is adding to the market.
"We don't have a hatred for specific packaging. All packaging material serves its purpose if its optimised and recycled. For us, the most important thing is not to create waste. We're not being driven by fads; we keep using this scientific heritage that we have to drive change. If you have a really bold vision and are humble to the task, you can make it happen. But if you do not start the journey, you never get anywhere.
"We are very aware of the direct impact we can have, but the amount of indirect impact we can have is endless. That's why we're standing side-by-side with Coca-Cola, L'Oreal and the Absolut company on this."
Both Carlsberg and Absolut primarily use glass packaging, of which nations like Denmark recycle around 90%. However, much like with the Snap Packs that replaced beer can rings, Carlsberg are looking to innovate their way out of a small yet recognisable plastics footprint.
Coca-Cola, on the other hand, are often painted as the villains of this global plastics crusade. The company has pledged to collect and recycle one plastic bottle for everyone they place onto the market, but a booming growth in production over the past few years has placed the company in the crosshairs of green groups.
The company's R&D manager for packaging Stijn Franssen first met Paboco at an industry event 18 months ago and was present at the Carlsberg Academy to unveil his vision of what paper packaging could mean for sustainability.
"They have a valuable concept on their hands, but it is still in its infancy," Franssen tells edie. "It needs to evolve, but it is very exciting, and it was clear from early on that this was something we should partner with them on.
"We own many products and brands and we are evaluating this technology across all our projects. We haven't made our mind up and it's a bit early to talk about what brands this could work for. This is about exploring and how it can work and fit and how do consumers and our supply chains react to this."
In the UK alone, Coca-Cola owns brands such as Fanta, Smart Water and Abbey Well and it is easy to imagine how the bottled water landscape could change if the company is bold in its vision to enlist paper-based packaging alongside its "Plant-based bottles", which is chemically identical to PET and can be collected and recycled in traditional PET waste streams.
Harmonised waste management
Major surveys suggest around 90% of European consumers would prioritise paper or wood-fibre over plastics, but the prototypes, which are still lined with plastic will need to overcome marketing, performance and safety hurdles first.
If consumers do end up backing this new paper bottle community, the key aspect of success will be the delivery of a new product that can exist in harmonised waste management systems across the globe while also pushing corporate towards ambitious packaging targets.
L'Oréal is a member of the UK Plastics Pact. Under the pact, signatories make four main commitments for 2025: eliminating unnecessary single-use packaging through redesign; making all plastic packaging 100% reusable, recyclable or compostable; achieving recycling and composting rates of 70% or more for packaging, and including 30% recycled content across all packaging.
The company's director of packaging and innovation Philippe Thuvien used the event to note the need to explore all areas of innovation to improve the sustainability of packaging and meet the public commitments. For L'Oréal one of the key technological barriers that need to be explored is how the outer packaging reacts when it comes into contact with water.
The community members already boast recyclable packaging, but that doesn't mean it gets recycled.
Coca-Cola's Great Britain arm, for example, launched its first fully recyclable plastic bottles made using 100% recycled PET (rPET), under its Glaceau Smartwater brand. However, the full recyclability of a product ultimately depends on how consumers dispose of it, and how waste management collects and processes it.
It is often overlooked that conventional plastic is made from fossil fuels, a product of the oil and gas industry. While wood-fibres allow companies to tap into a renewable material, Coca-Cola's Franssen notes that an educational piece needs to be introduced to ensure that because something is made from natural materials it isn't littered because it will biodegrade.
"Our company is really striving for the circular economy and this fits with that," he adds. "I'm not going to develop packaging that you can throw on the curbside, that's not the goal. We want to make something that is easy to recycle and does not rely on fossil fuels and materials. It fits into the circular economy for us.
"A world without waste needs recyclability, but most importantly it requires partnering and everyone who has a part in this, and needs to play a part in making it happen."
So far, the Paper Bottle Community consists of the manufacturers of the prototypes and the end-user businesses. For paper bottles to thrive in the circular economy – perhaps even pushing plastic bottles out of circulation altogether – Paboco's Schiold is aware of the need to make the waste industry part of the community.
"It's a bit challenging," Schiold tells edie. "Different markets have different processes to collect packaging, but this will be one of the most important things to solve and this ambition is shared by all the members.
"It's a combination of challenging the recyclers. If we steer too much towards conventions that are currently there we might not get anywhere. So, the next step for the community is to bring someone in who can have these dialogues."
Innovative disruption
In the short-term, the brands will focus on technological performance. Carlsberg, for example, wants the paper bottles to match or exceed its "most efficient packaging to date" – refillable glass bottles that have a wax coating applied to keep them in circulation for longer – a move that lowers the overall environmental impact of the bottle.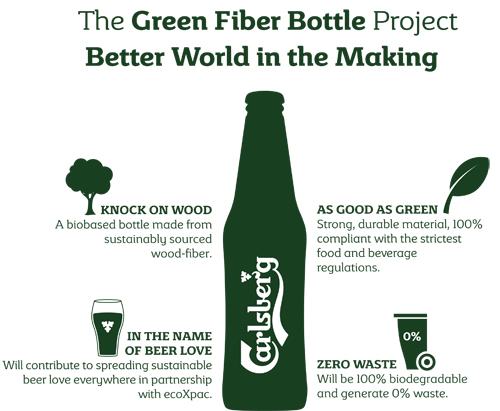 All community members will focus on lifecycle analysis performance of the bottles, but current production is too low volume to be able to accurately generate data.
In true circular fashion, it is best to finish where this journey started, and Carlsberg's Boas Hoffmeyer believes that it is this type of innovative thinking and partnerships that will give businesses a competitive edge.
"When we launched the vision, plastics weren't as high on the agenda," he says. "We're not just following the trends, we look ahead and the work we've done on Snap Packs and the Green Fibre Bottles has absolutely put us on the forefront of delivering concrete solutions to the things that are now being discussed. The only reason we're able to do that is that we look ahead of the curve.
"We don't want to create more confusion on packaging and we as a community need to remain consistent and sure on what it is and what it isn't, and keep communicating that these bottles need to be collected, recycled and enter the circular economy. We can learn a lot from the other community members and the tonality of the message can be the difference between a 60% or 90% return and recycling rate."
Innovation has always been brilliant at making things redundant, or even extinct. The digital revolution of the early 2000s created a major casualty out of Kodak and Blockbuster, and the green revolution sweeping the streets today likely means the products and services that are mainstays today are gone tomorrow.
These four huge companies have taken the first step to ensure that they can thrive through the disruption of the low-carbon, resource-efficient transition, and have created an opening to allow others onto that pathway. Even if this pathway isn't the beginning of the end of the plastic bottle, it should be the start of a transition to a truly circular economy and a world without waste.
Matt Mace